Natural Raw Honey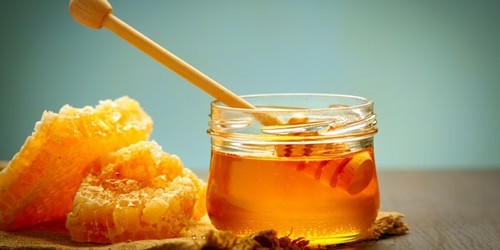 Natural Raw Honey
Price And Quantity
Kilograms/Kilograms

12 USD ($)
Product Description
Himalyan honey is harvested from wild beehives in the forests of Himalyas. Harvested every year, during the months of April to May, this honey is one of the most sought after in India. The Honey contains the nectar of various wildflowers in it which makes it all the more healthy.
According to Ayurveda, honey from the Himalyan forests is considered to have the maximum healing properties. According to modern researchers, Himalayan honey from the forests contains the maximum antioxidants in it.
The People who collect this honey are trained in sustainable harvesting. Sustainable Himalayan honey harvest involves cutting out the honeycomb from the beehive without killing or harming the bees.
Every jar of Himalayan honey you purchase indirectly improves the life of Himalayan honey hunter community whose main profession has remained as honey harvesting for thousands of years. This ensures that the tribals do not have to migrate to the cities to live harsh lives away from the land they have lived in as a community for thousands of years. We ensure that the tribals are paid well for their labor, expertise, and vast knowledge of the Himalayan lands.
Each jar of Himalayan honey has the essence and the goodness of a thousand flowers in it.
Raw honey has been used as a folk remedy throughout history and has a variety of health benefits and medical uses. Its even used in some hospitals as a treatment for wounds. Many of these health benefits are specific to raw, or unpasteurized, honey.
Most of the honey you find in grocery stores is pasteurized. The high heat kills unwanted yeast, can improve the color and texture, removes any crystallization, and extends the shelf life. Many of the beneficial nutrients are also destroyed in the process.
If you're interested in trying real natural honey, buy it from our Online store or you can also contact us on this address
Here are some health benefits raw honey has to offer:
1. A Good Source Of Antioxidants
Himalayan honey contains an array of plant chemicals that act as antioxidants. Some types of honey have as many antioxidants as fruits and vegetables. Antioxidants help to protect your body from cell damage due to free radicals.
Free radicals contribute to the aging process and may also contribute to the development of chronic diseases such as cancer and heart disease. Research shows that antioxidant compounds in honey called polyphenols may play a role in preventing heart disease.
2. Antibacterial And Antifungal Properties
Research has shown that Himalayan honey can kill unwanted bacteria and fungus. It naturally contains hydrogen peroxide, an antiseptic. Its effectiveness as an antibacterial or antifungal varies depending on the honey, but its clearly more than a folk remedy for these kinds of infections.
3. Heal Wounds
Himalyan honey is used in medical settings to treat wounds because is been found to be an effective germ killer and also aids in tissue regeneration.
Studies show that Himalyan honey can boost healing time and reduce infection. Keep in mind that the honey used in hospital settings is medical grade, meaning its inspected and sterile. Its not a good idea to treat cuts with honey you buy from a store.
4. Phytonutrient Powerhouse
Phytonutrients are compounds found in plants that help protect the plant from harm. For example, some keep insects away or shield the plant from ultraviolet radiation.
The phytonutrients in honey are responsible for its antioxidant properties, as well as its antibacterial and antifungal power. They are also thought to be the reason honey has shown immune-boosting and anticancer benefits. Heavy processing destroys these valuable nutrients.
5. Help For Digestive Issues
Honey is sometimes used to treat digestive issues such as diarrhea, though there isnt much research to show that it works. Its proven to be effective as a treatment for Helicobacter pylori (H. pylori) bacteria, though, a common cause of stomach ulcers.
Its also a potent prebiotic, meaning it nourishes the good bacteria that live in the intestines, which are crucial not only for digestion but overall health.
6. Soothe A Sore Throat
Have a cold? Try a spoonful of Himalayan honey. Honey is an old sore throat remedy. Add it to hot tea with lemon when a cold virus hits you.
It also works as a cough suppressant. Research has suggested that honey is as effective as dextromethorphan, a common ingredient in over-the-counter cough medication. Just take one or two teaspoonfuls, straight.
From the foothills of the Himalayan Mountains, comes a honey that is as pure as the Himalayas. This 100% natural delectable sweet honey, finishes with a dash of floral hints. 100% Pure Natural Honey No additives, color, flavors or sugar.
Trade Information
Free samples are available

JAR